TJ-wriggle puzzles
The TJ-wriggle puzzles followed on from the original wriggle puzzles and quickly established themselves as the most popular variant. They are named in honour of Tom Jolly (www.jollygames.net) who devised the original mechanic and who helped co-develop many new challenges. The set featured below is based on the 6x6 grid and up to four wrigglers. The goal is the same in all cases, to release the blue wriggler through the gap at the bottom of the grid. Note that in these puzzles the grey squares are blockers, so the wrigglers effectively reside in a mini-maze.
Example puzzle
Click below to play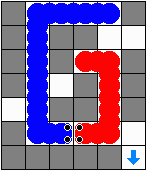 Drag the wriggly worms around the maze until you can release the blue wriggler through the light-blue gateway. You can drag by head or tail and it does not matter which end exits first.
Controls
Use the Click here to play button to select a puzzle set.
Use the puzzle drop-list to select a puzzle.
Use restart (action) or the space key to reset.
Movement
Use the mouse to drag a wriggler by its head or tail.
Sorry - this applet is currently unavailable
Added to the collection in 2009 we also have the big-wriggle bonus challenge which celebrated the launch of the first Wriggle iOS app. The app was later released for MacOS as Wriggle-3D in 2013.
Both apps were developed by Conlan Rios and hopefully one day will be refreshed and relaunched. In the meantime there's a blog from 2019 that reviews the clickmazes wriggle apps, alongside many other apps past and present, based on the wriggle mechanic.
The BIG-wriggle challenge
Hint: resize the puzzle frame after launch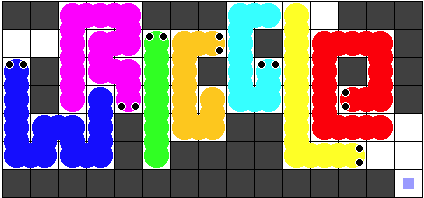 Sorry - this applet is currently unavailable
---
---
concept - © Tom Jolly - 2006
maze designs - © Andrea Gilbert & Tom Jolly - 2006-09
applet - © Andrea Gilbert - 2006-09