sample puzzle
click below to play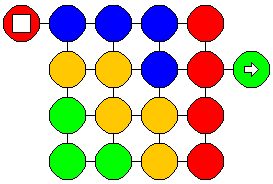 Aim
Cross the grid, from left to right, visiting exactly three stepping stones of the same colour and then switching colour. U-turns not permitted, but you may revisit the same stepping stone several times.
Controls
Use the puzzle drop-list to select a puzzle.
Use mouse clicks or cursor-keys for movement.
Use restart (action) or the space key to reset.

Movement
Use the cursor keys to move, or click on a stepping stone.
Press "u" (undo) to jump back as far as the last colour-change.


Hints
You cannot get completely stuck in this maze, as long as you plan ahead at least one step.